About Team Pratt- Brad and Darleen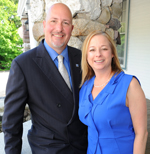 Brad and Darleen both had long and successful careers in real estate prior to working together at REMAX in October of 2011. They immediately appreciated each other's strengths in the business and realized that together, they delivered over the top customer service. Since teaming up, the results have been fantastic! There goal has been and always will be, to delvier customer service that others can't. Their past clients often say that their service is the best they have ever experienced!
Working with both buyers and sellers, they utilize their experience in marketing and negotiation to make sure the client is well represented.
Brad and Darleen bring very different skill sets to the team. Brad is laid back, easygoing and very knowledgeable about all aspects of residential construction as he was in the business for years. Darleen brings a tough go getter approach along with a great sense of humor to the TEAM. her negotiation skills are second to none. Darleen had a career in the corporate world prior to real estate which helps the TEAM with organization and structure. Our tagline "AN EXPERIENCED TEAM ALWAYS OUTPERFORMS AN INDIVIDUAL" is not simply a tagline. They make it the truth and strive for unprecedented service and value. When working with Brad and Darleen you are getting two seasoned veterans working for you fulltime. They have an 877-481-5544 number that rings them both so that you will reach one of us when you call. Phone, text, or email us anytime.